The Artist's Sketchbook: A Personal View, Sunday Lecture Series, National Gallery of Art, Washington, DC, 27 October 2019 (forthcoming)

Watching Thinking, Works in Progress Lecture Series, National Gallery of Art, Washington, DC, 25 February 2019

Zevitas, Steven, New American Paintings #136, South Edition, The Open Studios Press, Boston, MA, pp 118-121, June/July 2018

Online Catalogue of the William Louis-Dreyfus Foundation Collection
Charles Ritchie
Interview with Charles Ritchie, 16 June 2016
Larry Groff, Painting Perceptions
Introspective, Group Exhibition at BravinLee programs, New York, 2 February to 19 March 2016
Visual record of the works in this exhibition of self-portraits by fifty-seven artists.
Speaking in Shadows by Reed Turchi, 29 January 2016
Music CD with album art and design by Charles Ritchie
Capital Gazette, Annapolis, MD, 25 January 2015
A Lineage of American Perceptual Painters, Exhibition Review
A Muse and A Maze: Writing as Puzzle, Mystery and Magic by Peter Turchi, 25 January 2015
Joanna Scutts, Washington Post Book Reviews
Less-Crowded Sattelite Fairs Reveal Labors of Love, 5 December 2014
Jan Sjostrom, Palm Beach Daily News
A Muse and A Maze: The Mysteries of Fiction Writing, 23 November 2014
Author Peter Turchi discusses his new book touching on the art of Charles Ritchie on North Carolina Public Radio, WUNC
Discovering a Symphony in Silence, 20 November 2014
Hope McKeever, The Houghton Star
x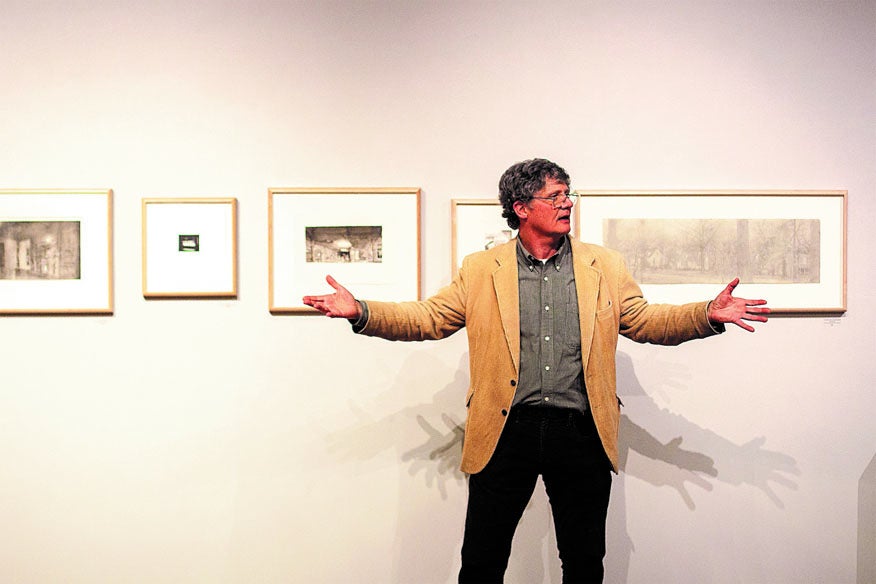 Discovering a Symphony in Silence
Posted by
hope mckeever
November 20, 2014

Imagine a room where light speaks, shadows whisper, and introspection reigns supreme. For artist Charles Ritchie, this atmosphere creates an inspirational context for his life and for his artwork. Ritchie arrived on campus last Friday to present his show in the Ortlip gallery. The characteristically colorful room filled with large pieces of art was stripped down to its core displaying small, detailed prints, drawings, and journals. They primarily depict scenes from inside and around his home in Silver Springs, Maryland. Senior Amanda Irwin, a gallery assistant, commented, "There is something very personal about the work that I find to be intimate in size and subject matter." Ritchie invites the viewer to step into his world through visual art. Professor of art, John Rhett commented, "The respect for the individual response is paramount in a show like this. It's quiet, and it rewards meditative, introspective thinking."
In his artist's statement, Ritchie describes his small-scale presentation "as an invitation to the viewer to crawl into an intimate yet immense universe." The set up of the gallery challenges the viewer to experience the same intense introspection that Ritchie finds important in the process of creating his work. The white walls are neatly adorned with frames that invite the viewer to step in closer. He challenges the viewer to detach him or herself from the corporate world and prompts an invitation into his own simple, yet profound existence. In response to Ritchie's invitational objective, Rhett said, "Important artists give us visual vocabularies. We learn to see through their eyes."
Ritchie works from a chair in his home, slowly creating a layered representation of the metaphysical world using watercolor, graphite, pen, and ink as his tools. He attributes his unique style of creating to rebellion. Rebellion against the way he was brought up. He moved a lot as a child, and he finds the stability of his home liberating. However, he does not settle for stagnancy. He described how he enjoys "getting to know the world in a profound way through limited experience." He compared this process to the life of a musician. A musician practices scales every day and listens to the rhythms and musicality of the notes. Ritchie described how he wants to be a receptor of the beautiful art that proceeds from his study of the observable world.

He sees his methods as a skill that takes time and patience to acquire. "Training the eye and hand has helped me isolate what is important," he mentioned. His impeccable knowledge of color value is one of the important tools that he uses to create this isolation. Because he primarily works in black and white, Ritchie described how he must use the full range of color that these two colors offer. In a value class that Rhett taught, he used Ritchie's work as an example of exceptional use of value. Rhett encourages his students to observe contrast between colors in their work instead of framing every section of color with lines.
Along with contrast in value, Ritchie studies time as a crucial element in his work. He finds immense importance in the stillness of time and the movement of time. Without the movement of time, he would not be able to capture the changing shadows on the wall, yet without the stability of time, he would not be able to document the reverently still environment. Both are crucial elements in his work and his observance of the world. He strives for moments that become "iconic rather than fleeting." For example, Ritchie explained that he is currently working on a project that will take many years. He is observing the growth of an oak tree as it slowly adds layers to its core across a wide span of time, mastering the art of transitions.
Humility translates through his work because he realizes that he may not be alive to finish some of his projects as he believes, "no decision is final." His work constantly evolves, creating an accurate representation of how his "inner voice" evolves with his work. Laurissa Widrick, a senior art major, observed this evolutionary aspect of his work and marveled at how, "his process is a lifelong commitment."
Because his personal life connects so closely to his work, Ritchie's own voice is the primary one that translates into his work. His inner voice, "the dream voice" as he calls it, captures the "train of consciousness" that goes through his mind during his early morning meditation times. These dedicated early morning reflection times are essential to the consistent patience that he exercises in his work, Rhett remarked. Ritchie finds solitude extremely important in the spiritual act of studying the inner voice and the psychology of self. He concluded that, "I think in a way, one's spiritual world depends on those things." This spiritual element permeates through his work turning small-scale pieces into scenes portraying vast universes that are easy to miss in a quick glance.
Even if you missed the gallery opening last Friday, the gallery is open during the day and welcomes students, faculty, staff, and community members. The invitational quality of Ritchie's work, according to professor Rhett, can be attributed to the "non sequential" form of the work. Because of the open-ended nature of the show, viewers can continue coming back multiple times to glean new reflections about the work and about the self.
Center Street Studio: 30 Years of Print Publishing, September 2014
James Stroud, Catalogue of prints by Center Street Studio artists
Charles Ritchie, Spring/Summer 2014
John E. Rice and Katherine Nonemaker, Open Lab Magazine 10
Ritchie's Watercolor Time Machines, 5 September 2013
Amanda Wynter, The Georgetown Voice
Charles Ritchie: Reflections, Spring 2013
John A. Parks, Drawing, Volume 10, Issue 37
Charles Ritchie: Journals to Drawings to Prints, Lecture: The Model, Sligo, Ireland
https://www.youtube.com/watch?v=ebDQYzzQMoM
Charles Ritchie, BravinLee programs, January 2013
Sylvia Hochfield, Artnews
All Over the Map: The Best of 2012, 25 December 2012
John Haber, Haber's Art Reviews, www.haberarts.com
Downsizing, 9 December 2012
Edith Newhall, The Philadelphia Inquirer
Small is far from limited: small scale: expansive visions at Gallery Joe, 3 December 2012
Sabina Tichindeleanu, Artgrind, www.artgrind.wordpress.com
The Feverish Library and Charles Ritchie, 15 November 2012
John Haber, Haber's Art Reviews, www.haberarts.com
Small Scale: Expansive Visions, Opening Saturday 17 November 2012, 29 October 2012
Press Release / Show Announcement / Gallery Joe
Innovative drawings at UB Art Gallery, 18 October 2012
Jack Foran, Artvoice
Charles Ritchie, Drawings and Journals, Opening Friday October 19th, 12 October 2012
Press Release / Show Announcement, BravinLee Programs
UB exhibition samples new take on drawing, 12 October 2012
Colin Dabowski, The Buffalo News
Golden Series: Strawberries, Blueberries, and Two Figs / Charles Ritchie, 14 August 2012
Abbey Ryan, ryanstudio.blogspot.com
The Art Out There: Charles Ritchie, 23 July 2012
David Carmack Lewis, artouthere.blogspot.com
New American Paintings 100, South Edition, 10 June 2012
Steven Zevitas, The Open Studios Press
Meet Charles Ritchie, Cortona '76, 1 May 2012
Cortona Italy Alumni Organization Newsletter, ciao-uga.org
Dust and Shade: Drawings by Charles Ritchie, Cornell Fine Arts Museum, 12 March 2012
Gallery Guide, Southeast Edition, Cover and Feature Article, artinfo.com
Charles Ritchie: Where Dreams and Reality Collide, 27 January 2012
Michael Schwartz, The Arcadia University Bulletin
Dust and Shade: Drawings by Charles Ritchie, 27 October 2011
Portia Iversen, Escape into Life
Charles Ritchie, BravinLee programs website
Selected Images, Biography, Press
New Art - Old City, 13 October 2011
Marilyn MacGregor, artsmarttalk.com
Into the Light, 2 October 2011
Edith Newhall, The Philadelphia Inquirer
Night, Truck, Two Lights Burning, 1 October 2011
Limited Edition Book, Collaboration with Author Peter Turchi
Dust and Shade: Drawings by Charles Ritchie, 30 October 2011
Portia Iversen, Escape Into Life
American Contemporary Art, September 2011
Charles Ritchie, Philadelphia, Gallery Joe, page 47
Charles Ritchie: Dust and Shade, 24 September 2011
Illustrated List of Works in Exhibition
The Art Start of the Year in Philly, 14 September 2011
Phebe Shinn, Weekly Press
Big Bang, Small Bang at Gallery Joe, 26 February 2010
Libby Rosof, The Art Blog
Head north and follow the signs of contemporary times, 22 November 2009
Blake Gopnik, The Washington Post
Charles Ritchie: Books and Pages, 23 October 2009
Exhibition Catalogue and Checklist
New American Paintings 81, 15 April 2009
Editor's Pick: Charles Ritchie
Press Release, Charles Ritchie, 6 April 2009
Cartin Collection @ Ars Libri, Boston, MA
HOME Exhibition Catalogue, 5 April 2009
Westport Arts Center, Westport, CT
Charles Ritchie's Shadow World at Gallery Joe, 7 December 2008
Roberta Fallon, Artblog
Philadelphia Inquirer, 9 November 2008
Through His Window, A Distinctive View
Philadelphia City Paper, 4 November 2008
First Friday Focus: Arts, Charles Ritchie at Gallery Joe
New Exhibition Catalogue
From the Inside Looking Out: The Journals, Drawings and Prints of Charles Ritchie
x
Co-published by The Gregg Museum of Art & Design, Raleigh, NC and Gallery Joe, Philadelphia, PA. Full color, 28 pages. Please contact The Gregg Museum of Art & Design regarding availability.
New at the Gregg Musuem of Art and Design, 20 August 2008
New Raleigh
PeterTurchi.com web site launch, 12 August 2007
Author Turchi discusses his collaboration with the artist
The New York Times, 1 June 2007
Holland Cotter on Ahuja and Ritchie at BravinLee programs
x
Mequitta Ahuja and Charles Ritchie

Ms. Ahuja makes her New York solo debut with large paintings on paper of mythical beings, half woman, half animal, dressed in robes as brilliantly colored as the tropical fruit and flowers around them. Referring to the artist's African-American and East Indian background, the pictures turn marginality into a regal condition. The gallery also kicks off its new artist's book program with a display of sketch books by Mr. Ritchie, an artist based in Maryland. Each small book is filled with marvelous watercolors and all but indecipherable writing. Mr. Ritchie has been making such books for 30 years. They are extraordinary. BravinLee programs, 526 West 26th Street, 2nd floor, (212) 462-4406, closes tomorrow.

Holland Cotter © The New York Times 2007


The Washington Print Club Quarterly, Spring 2007
Franz and Virginia Bader Fund Artists
x

Franz and Virginia Bader Fund Nurtures Mid-Career Artists

Franz Bader, the legendary Washington art dealer and bookstore owner, nurtured local artists during his lifetime, and he continues to do so long after his death.
The Franz and Virginia Bader Fund, established in 2001 in accordance with the will of Bader's widow, Virginia, awards grants to visual artists who are at least 40 years old and live within 150 miles of Washington, D.C. Since 2002, the Bader Fund has distributed $245,000 to 13 grantees. Two to three awards of between $15,000 and $25,000 are given each year. They can be used for any pur­pose, such as time off from a job, travel, working in other media, or remodeling a studio. The most recent grants, announced in December 2006, went to three artists, including, for the first time, two photographers. The recip­ients are photographers Frank Hallam Day, Washington, D.C., and Joe Mills, Annandale, Virginia, and Philip Geiger, Charlottesville, Virginia, a painter.
The first exhibition of Bader Fund recipients' work was held November 8, 2006-January 26, 2007, at George Washington University's Luther W Brady Art Gallery. One hopes it will become an annual event! Michael O'Sullivan's glowing January 12, 2007, review in The Washington Post brought visitors to the show. Before then, O'Sullivan reported, the Bader prize winners, "seem habitually to have received less publicity than, say, that of the winners of the Trawick Prize or the Bethesda Painting Awards, both of which feature annual showcases devoted to the competi­tions' finalists."
"The Franz and Virginia Bader Fund: Artists of the First Three Years" was organized by GWU University Art Galleries director Lenore Miller and Johanna Halford­ MacLeod, the Bader Fund's executive director. It featured oil paintings, works on paper, and sculptures by seven artists who received grants in 2002-2004. Among them were Kevin MacDonald of Silver Spring, Maryland, the late printmaker and painter to whom the show was dedi­cated, and Charles Ritchie, also of Silver Spring, whose specialty is drawings and prints. Also in the show were works by sculptor Yuriko Yamaguchi of Vienna, Virginia, and paintings by Steven Kenny of Washington, Virginia, and by Scott Noel, Alex Kanevsky, and Susan Moore, all of Philadelphia.
O'Sullivan found that MacDonald's two prints and one painting were "inspired by the architecture and angst of suburbia" and "seem to throb with an otherworldly power." They have, he wrote: a pull that is, I think, universal in these meditations on memory, longing, and loss. A similar pull can be felt in Ritchie's works, especially in the two small drawings identified as-but not immediately obvious as-self­portraits. Gradually, it becomes apparent that the images are reflections in windows ... Like MacDonald's work, the built environments around us seem meant to be read as stand-ins for our own theatrically shadowed psyches.
Ritchie has been with the National Gallery of Art, where he is currently Associate Curator of Modern Prints, for 27 years. He used his Bader grant to take time off so he could concentrate on a series of nocturnal self-portrait drawings and a mezzotint with soapground aquatint. He also filled nearly two handmade books with writing and color images. "I work fairly slowly and usually complete six to seven drawings a year," he said, "The Bader Fund grant gave me time to prepare for a show last year at Gallery Joe in Phil­adelphia that sold out. I credit the Bader Fund with giving me time and getting me straight into a really good gallery."
The Selection Process
Bader Fund recipients are chosen by a committee of nine, all friends of Franz and Virginia Bader. They meet in a hotel for two days, reviewing slides and CDs of submitted works, Lenore Miller said.
There were 200 applicants for the three grants made in 2006. While great effort is made to solicit applications, Bader Fund director Halford-MacLeod worries that artists who are not represented by galleries or connected to art schools may not know about the Fund.
Visual artists working in virtually every medium except film, video, and performance art are urged to apply. To date, painters predominate among the recipients, but printmakers, photographers, and sculptors are also represented. Bader was an accomplished photogra­pher and sold ceramic works as well as photo­graphs, prints, paintings, and sculpture in his gallery. The Fund wants its grantees to reflect his diverse interests, and Halford-MacLeod said, "We would love to hear from potters and other craftspeople."
Since most of the Bader grantees applied more than once, Halford-MacLeod's advice to applicants is: "If at first you don't succeed, try again." In addition, artists known in one medium can apply for a grant in another. For example, Richard Weaver, a painter whose work has been exhibited at the Smithsonian American Art Museum, applied for-and won-a grant as a sculptor. "He submitted fabulous terracotta relief sculptures," Halford­MacLeod said, "We all loved them because they were so fresh and different from what people are making that finds itself in galleries."
Franz Bader's Legacy
Franz Bader (1903-1994) was born in Austria, the son of a flour merchant and a painter. By the mid-30s, he owned the oldest bookstore in Vienna; however, after Germany annexed Austria in 1938, Bader, like other Jews, lost his business. With the sponsorship, through a mutual friend, of James Whyte, Bader and his first wife Tony managed to get visas to the U.S. in 1939. When they came to Washington, Bader worked in Whyte's well-known book­store, which sold modern art as well as foreign-language books and maps, until he opened his own art gallery and bookshop at 1705 G Street, N.W in 1953.
Many well-known artists, including American print­maker Peter Milton (1930- ), exhibited at the gallery. Bader was also always interested in late-bloomers: he was the first Washington gallery to exhibit Grandma Moses, and the first commercial gallery to exhibit African­American artist Alma Thomas.
Local artists who exhibited there included WPC artist-­member Barbara Kerne, the NGAs Mark Leithauser, and WPC board member Joan Root. "He nurtured artists and it is wonderful that his nurturing continues after his death," Root said. Bader not only exhibited her work, he also made a great effort to keep her in his circle. When Root decided to leave Washington for New York City, he offered her a small monthly advance so that she could con­centrate on her art. In return, she sent him some of her artwork and he would deduct her advances from the pieces he sold. The arrangement benefited both of them. The advances gave her the freedom to work on her art, and she sent him her best work, rather than sending it to a New York gallery. Root stayed in New York for 11 years and received Bader's advances for the first three years. She never knew if Bader made similar arrangements with other artists, but she suspects that he did. "He had faith in me," she said, "It made me more focused and very serious about my work." Root also reported that Bader had significantly helped her career: a series of lithographs that she produced sold well at his gallery and his encouragement led her to other important professional affiliations.
"Franz brought printmaking as well as works by a wide range of artists to Washington, and he supported both in the sense that he showcased them in a city that then offered little of either," she said.
Bader wanted that support to last. "As Franz grew older, he felt the need to have something continue ... after him, and that was his vision of the aesthetic riches that could be found in the places that too few people looked. It was for this reason that he and Virginia decided to establish a fund to help older artists ... bring their gifts to the world," Richard Conroy writes in a warm and appreciative memoir of Franz and Virginia Bader published on the Bader Fund website.
Joan Pinkerton Filson
The Washington Print Club Quarterly, Spring 2007, pp 4-6, Volume 43, No. 1
The Washington Post, 12 January 2007
Group exhibition at George Washington University, Washington, DC
x
The Quiet Pull of the 'Bader Fund' Show
at the Luther W. Brady Art Gallery, George Washington University
By Michael O' Sullivan
For The Washington Post
Unlike those showcases, however, which have tended to include sometimes edgy work, "The Franz and Virginia Bader Fund: Artists of the First Three Years" is a pretty sedate show, featuring artists working almost entirely representationally. The lone exception is talented local sculptor Yamaguchi, whose art is known for its quiet, almost hermetic symbolism. Here, she's represented by two works: a wall of half-biomorphic, half-calligraphic shapes in translucent resin called "Metamorphosis/Transient" and a cloudlike ball of copper wire and resin bead-forms titled "Web #8." Part of a series, the latter evokes both the unknowability of the human brain and the World Wide Web.
Of the other artists, whose work ranges from Kenny's tight surrealism to Kanevsky's brushy renderings of a fish, an apple tree and a female figure, the late MacDonald of Silver Spring stands out, and not merely because the show is dedicated to him, as a memorial of his death last year from cancer at age 59. Although you might want to call his work sedate, it's nowhere near sleepy.
Spare and unhurried -- to use the words of artist, teacher and critic Janis Goodman, whose review of the artist's work on WETA television is featured on a gallery computer -- MacDonald's two prints and one painting inspired by the architecture and angst of suburbia seem to throb with an otherworldly power. In unpopulated streetscapes, such as the oil-on-paper "Mysteries (of Silver Spring) Girls Portion," which memorializes the now-vanished strip mall at Colesville Road and Georgia Avenue, MacDonald creates empty stage sets wherein the dramas of our own subconscious fears and desires play out.
Having gown up mere miles from the site of "Mysteries," and having known the artist, I find special resonance in MacDonald's work, including the more generic houses depicted in the silkscreens "Memoria Suburbiae" and "Suburban Apotheosis." Still, there is a pull that is, I think, universal in these meditations on memory, longing and loss.
A similar pull can be felt in Ritchie's works, especially the two small drawings identified as -- but not immediately obvious as -- self-portraits. Gradually, it becomes apparent that the images are reflections in windows. Bits of the frame are visible, as are half-glimpsed objects in the interior, but only dimly the artist himself. Like MacDonald's work, the built environments around us seem meant to be read as stand-ins for our own theatrically shadowed psyches.
THE FRANZ AND VIRGINIA BADER FUND: ARTISTS OF THE FIRST THREE YEARS Through Jan. 26 at the Luther W. Brady Art Gallery, George Washington University Media and Public Affairs Building, second floor, 805 21st St. NW (Metro: Foggy Bottom-GWU). 202-994-1525. Open Tuesday-Friday 10 to 5.
© 2007 The Washington Post
Mountain Xpress, 6 September 2006
Solo exhibition at Warren Wilson College, Asheville, NC
The Cartin Collection, 14 May to 14 August 2006
Lyman Allyn Art Musuem, New London, CT
Philadelphia Inquirer, 10 March 2006
Solo Exhibition at Gallery Joe, Philadelphia, PA
x
Two fine painters, one show
Nicole Phungrasamee Fein and Charles Ritchie
at Gallery Joe.
By Edith Newhall
For The Philadelphia Inquirer
A two-person show in which both artists shine shouldn't be a rare occurrence. But it too often is, which makes the current Gallery Joe exhibition pairing the works of Nicole Phungrasamee Fein and Charles Ritchie an unexpected treat.
Seeing Fein's and Ritchie's small but otherwise entirely unrelated watercolor pieces was a little like going to an ice-cream shop on a hot July day and trying to choose between such distinctive and likely competing flavors as peppermint stick and mango. In this particular case - art being ice cream - choice was not an option. I'd have ordered a scoop of each on one cone.
Fein's watercolor paintings do, in fact, have something in common with ice cream. Her colors, like De Kooning's or those of the Washington Color School painter Gene Davis, are coffee, lemon, peach, strawberry, pistachio, and boysenberry, among others. And her arrangements of those hues into stripe paintings - she also paints grid patterns - suggest miniature horizontal versions of Davis' vertical stripe paintings. That other horizontal stripe painter, Agnes Martin, comes to mind, too.
Both are superficial resemblances, though. Fein's practice of using the same pool of water to mix her paints - making each of her colors unrepeatable and unique - makes this work unpredictable and very much her own.
Ritchie's watercolors of nocturnal scenes in and around his Maryland home are spellbinding, not least because they were all painted at the same table in the same room of his house, and are all composed of tones of black and white, yet manage to be strikingly different from one another.
For example, there are paintings from two separate suites of self-portraits here, each individual work depicting Ritchie's self-portrait as reflected in a window, but some of these portraits are as easy to recognize as others are difficult. I found myself lingering in front of several of his self-portrait paintings waiting for the image of his face to coalesce, which it eventually did, but never in the way I'd anticipated it would.
Ritchie's paintings of straight and reflected images of the interior and exterior of his house often seem like composites of views, which I suppose, in effect, they are. The newest body of work in his show, a series called "Pages," juxtaposes Ritchie's tiny, almost indecipherable writing describing his experiences and dreams with images of his table at the window. These minute intimate pieces, though less photographic-looking than his other work, are reminiscent of trompe l'oeil painting.
Gallery Joe, 302 Arch St., noon to 5:30 p.m. Wednesdays through Saturdays. Through March 25.
215-592-7752 or www.galleryjoe.com.
© The Philadelphia Inquirer
Philadelphia Weekly, 30 August - 5 September 2005
Group Exhibition at Gallery Joe, Philadelphia, PA
University of Georgia Columns, 11 July 2005
Suburban Journals exhibition review
Baltimore Magazine, March 2005
Suburban Journals: The Sketchbooks, Drawings, and Prints of Charles Ritchie, Exhibition Review
Baltimore City Paper, 9 February 2005
Suburban Journals exhibition review
Baltimore City Paper, 2 February 2005
Suburban Journals exhibition review
The Boston Globe, 24 October 2004
More Than One: Prints and Portfolios From the Center Street Studio, Exhibition Review
Richmond Style Weekly, 7 April 2004
Suburban Journals exhibition review
Art on Paper, September - October 2002
Working Proof, Review of print Blue Twilight
The Washington Times, 8 December 2001
Lichtenstein and Beyond: Recent Acquisitions of Modern Prints at the Corcoran, Exhibition Review
Art on Paper, March - April 1999
Working Proof, Review of prints Two Houses: Day and Two Houses: Night
On Paper, September - October 1996
Working Proof, Review of print Daffodils with Astronomical Chart
The Print Collector's Newsletter, March - April 1996
Prints Published, Review of print Rocking Chair
Richmond Times-Dispatch, 2 February 1993
Charles Ritchie: The Interior Landscape, Exhibition Review
Richmond Style Weekly, January 1993
Charles Ritchie: The Interior Landscape, Exhibition Review