Photograph of Models for Accordion Fold Print
May 11, 2008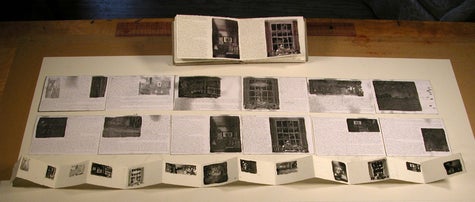 Details
Category: Work In Progress
Sheet: each panel 4 x 6"
watercolor, graphite, pen and ink on Arches paper with book and photocopies, See online journal entry for 11 May 2008. Project models for Accordion Fold Print; (top) Current journal book 130, open to one set of pages to be used as a motif for the accordion print. (middle) Two horizontal rows of photocopied images from journal 130 that will serve as the image base for the accordion fold print. (bottom) The folded half-size maquette features the sequence of images sketched in watercolor on Arches paper.