Virtual Reality Tour of the Exhibition at Jason Haam, Seoul, South Korea / 35 Years at My Window
Published on: 12 March, 2020

For a virtual reality tour of the exhibition click here
(Below) Photograph showing a view of the galleries installed for the Charles Ritchie: Welcome to Suburbia exhibition.
More installation views and a complete list of works with images are also viewable on the eazel website.

All still photographs of the exhibition are by SangTae Kim.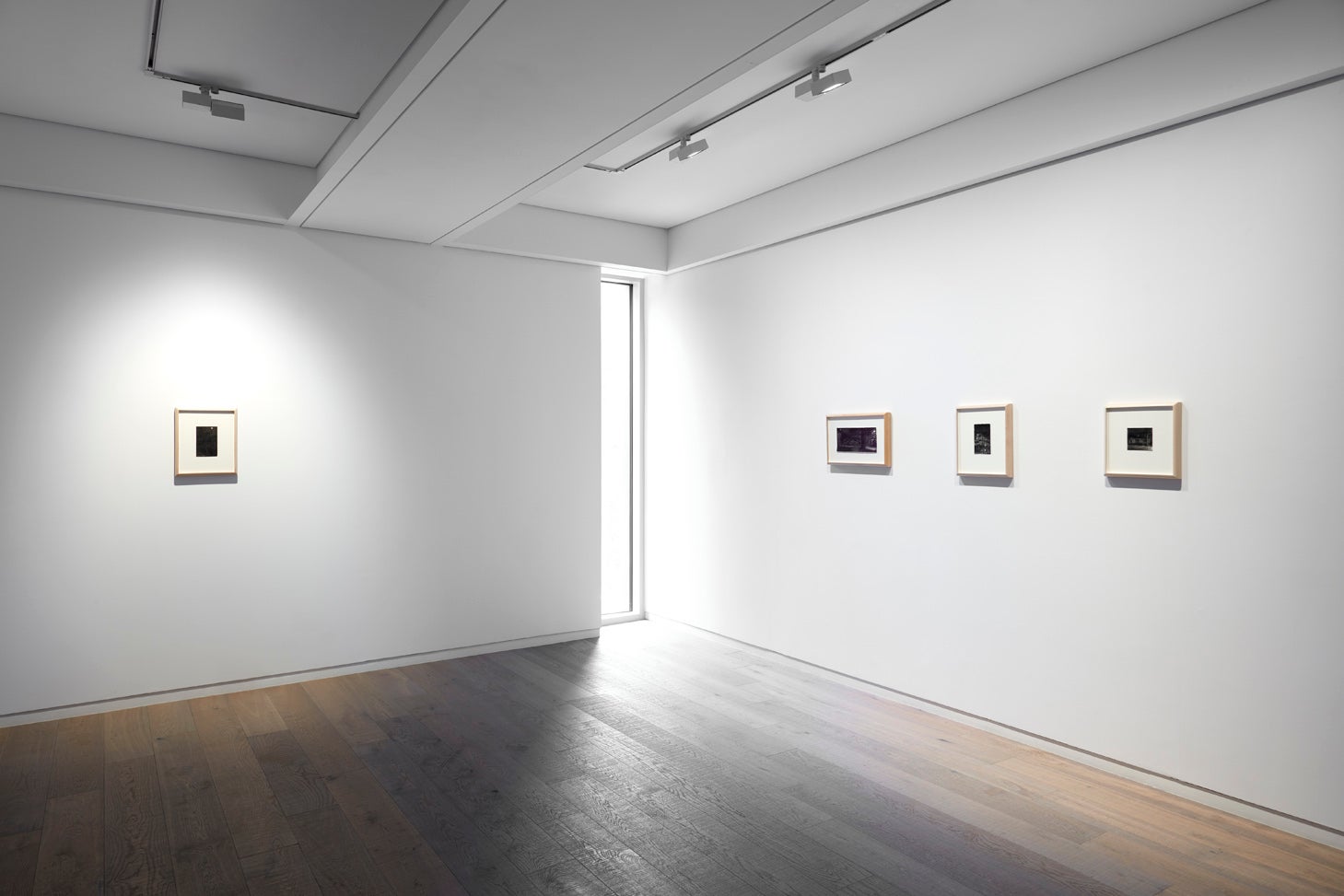 The show installed at Jason Haam's beautiful gallery assembled selections from more than 35 years of my drawings. The earliest work in the exhibition, Gibbous Moon (above left), was a pen and ink wash drawing created in 1984, predating the move into my current studio. My early engagement with pen and ink is reflected in this drawing as well as my first steps towards washing tone into images. An example of my transitioning toward painting watercolor over a very light armature of graphite can be seen in Reflection with Rocking Chair and Pillows, a drawing completed not long after we arrived in my current studio. I have tended to use lamp black watercolor as a way of exploring value contrast in my work – apparent in many of the works in the exhibition – however I continually venture into color when the need arises as in Rocking Chair in Sunlight, a work from the late 1980s.

By the 1990s, I had begun to integrate a wide variety of media into select drawings, as seen in Late Sun which includes a base wash of yellow watercolor over which graphite, conté crayon, litho crayon, and pen and ink were worked, erased, and reworked. A related approach can be seen in the drawing May, composed in graphite and charcoal over a 15-year period stretching across multiple campaigns that also involved heavy erasing as well as light sanding of the drawing's surface. May was the largest image in the show and represents a general limit to image size that interests me. The act of making each drawing often begins with the intuitive process of deciding exactly what size the drawing should be and I believe the subtlest variations can make a significant difference in the feeling and intimacy of my works.

Blue Night, was the only work in the show that takes an intaglio print for its support. The proof, originally printed in 2001, was extensively augmented with gouache and pen and ink over a period of almost 20 years. The tight rows of handwriting inscribed across the image in white ink may be imperceptible at first glance, emerging as the viewer approaches the image. These transcriptions of my dreams from the midsummer of 2004 reflect my interest in the subconscious. I enjoy enjoy recording and reflecting upon these narratives in my notebooks and on my works as I create my drawings. I am often asked if I can read my writing, and indeed I can. The small notehand is a very natural way from me to write. As in my images, I prefer the intimacy of the miniature and my tiny script allows me to record thoughts quickly and compactly while affording me privacy as most viewers cannot decipher it.

Some of my most recent works employ gouache (opaque watercolor) in tandem with transparent watercolor. The recently completed work, Self-Portrait with Lamps and Open Journal is a good example of interplay between opaque and transparent color and it also shows the kind of broadening of palette that has evolved in recent years. This drawing also extends my perennial exploration of mirror and window reflections. I often scrutinze these subjects in my drawings as a way of intensifying my engagement with space and time. To me, they amplify the essential questions: Where do we come from? What are we? Where are we going? And hopefully, when a viewer encounters my drawings, they are challenged to orient themselves in space and time as well.

And of course, the wide variety of materials, the different sizes and formats of my drawings, the various approaches to texture, interplay between fluid wash and linear definition, black and white versus color, and many other formal elements are part of an investigative program that refines the abstract underpinnings of my art. A hero of mine is Giorgio Morandi, an artist who is often introduced as a painter of bottles – although the essence of his art goes much deeper. I feel that though I may start with suburbia as a subject, I aspire to a deeper essence.

--------------------------------------------------------------------------------------------------------------------------------------------------------------------------------------------------------------------------------------------------

Perhaps a visitor to the show sensed some of the extraordinary number of changes I have witnessed over the decades in my modest landscape, cluster of interiors, and in their overlapping reflections: changing seasons, times of day, arrivals and departures, as well as shifting vantage points. I immerse myself in this world without inferring good or bad – it simply is. My practice is to observe. It was gratifying to have this exhibition at the same time I marked 35 years at my window in Silver Spring, Maryland. Most of the drawings in the Haam show were created at the desk seen in the photograph below or within a few footsteps from it. I am so grateful for this life.

(Below) Photograph of My Observatory, the window where I've worked for 35 years as of 5 March 2020.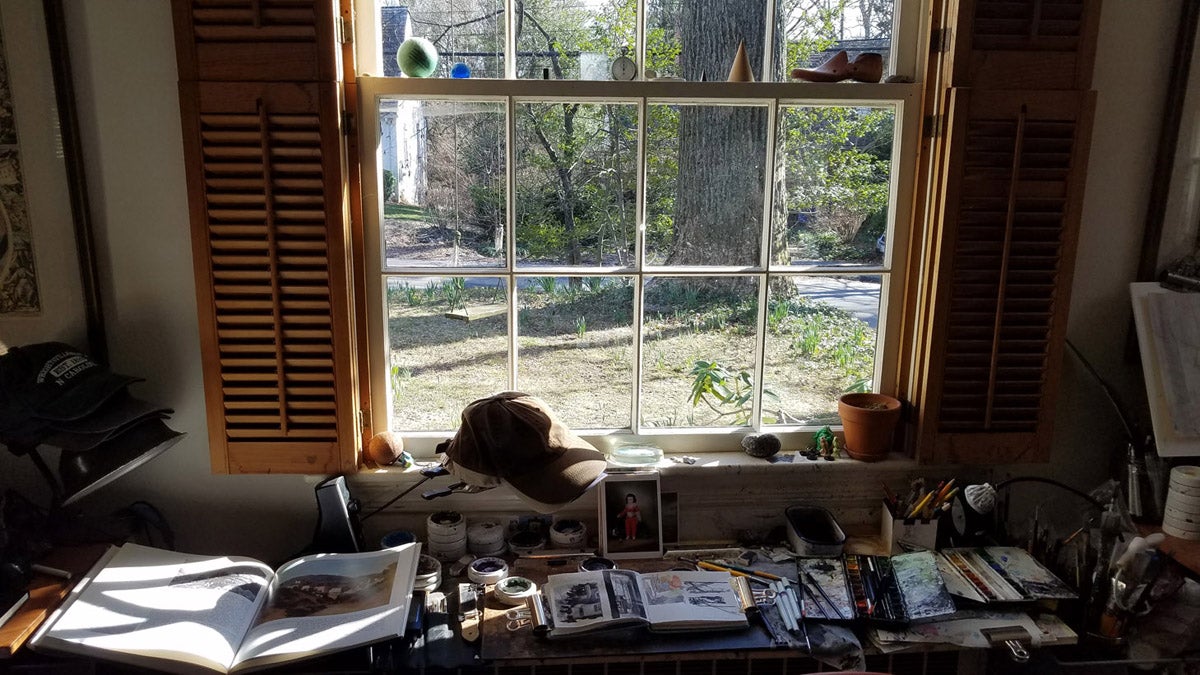 (Below) Photograph of my works-in-progress wall showing current drawings pinned above a portion my book collection, March 2020.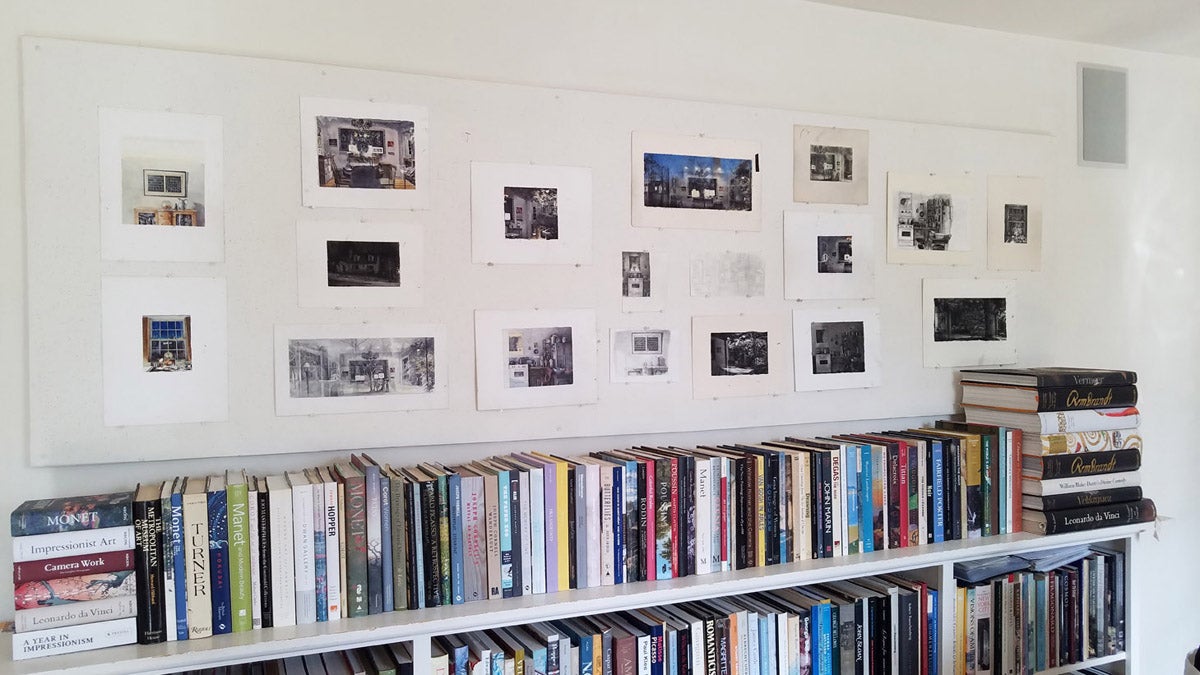 Greatest thanks to Jason Haam for the honor of presenting my work in his gallery and for the opportunity of introducing my drawings to new audiences. Also to Sophia Choi of Jason Haam, for her thoughtful engagement and enthusiastic support as well as everyone involved in the preparation and installation of the show. Thanks also to eazel for assembling the virtual reality tour of the exhibition. A deep bow of gratitude goes to John Lee and Karin Bravin of BravinLee programs, New York for their sustained commitment to my drawings and especially to John for his assistance in preparing for this venue. Also to my friend, the extraordinary artist, linn meyers, whose interest and counsel has been essential. And as always, thanks to Virginia Ritchie, my talented and beautiful wife, who makes my art and exhibitions possible and brings continual joy to my life.

The exhibition Charles Ritchie: Welcome to Suburbia was on view at Jason Haam, Seoul, South Korea from 12 March to 28 April 2020.