Views of the World
Published on: 7 June, 2010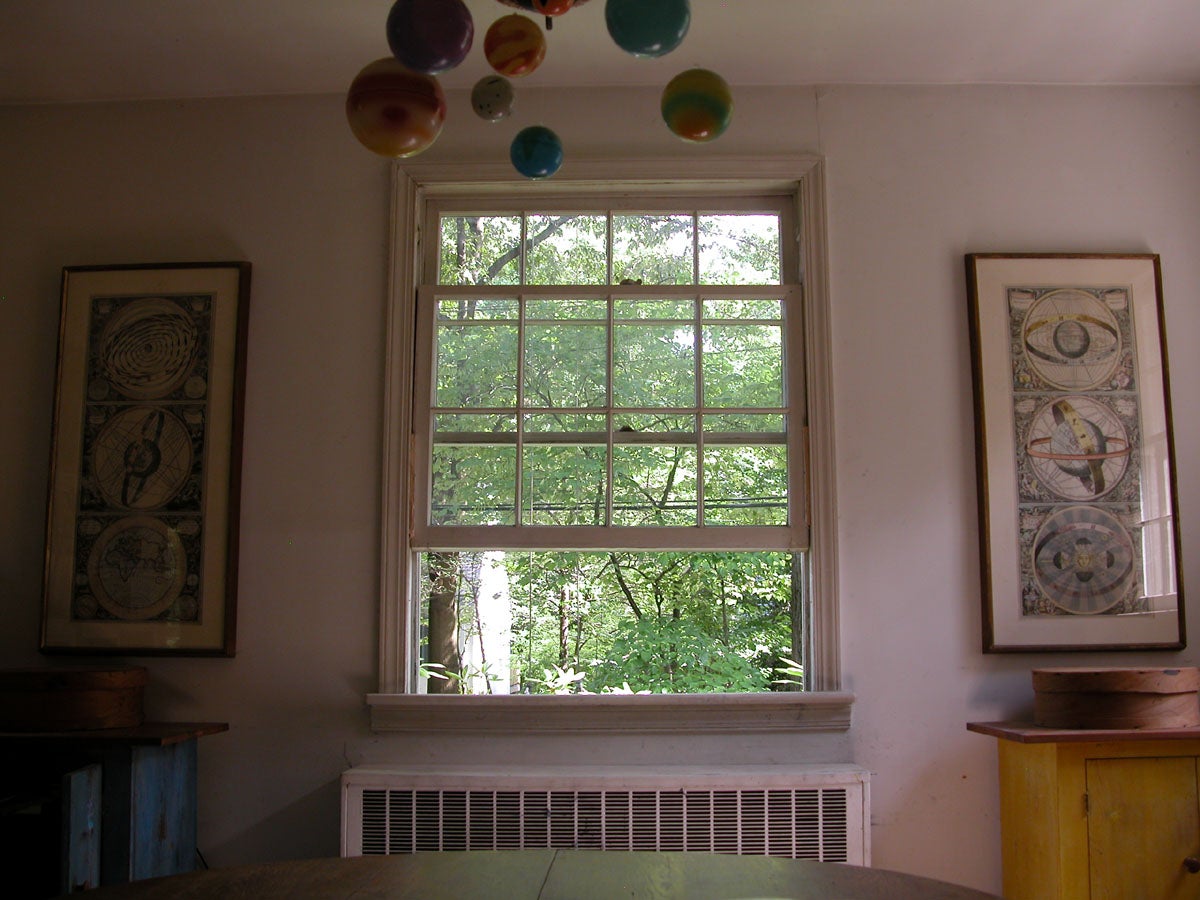 Views of the World For many years I've kept framed prints by Andreus Cellarius hanging at either side of my studio window. The engravings from his 1660 Harmonia Macrocosmica are not rare, probably modern reprints of plates adapted from the volume. The subjects fit well among the small group of astronomical charts hanging my studio and also bear a private significance. As I sit looking out my window, the Ptolemaic theory, placing the earth at the center of the universe hangs to my left; while the Copernican theory depicting a Sun-centered universe is to my right. I like being ensconced between these viewpoints; I believe my drawings are continually proposing options for viewing the world.

The photograph above shows the current state of my drawing window. We recently decided to paint our house and the windows are first; most have never been properly prepared and coated. The project involves removing everything in the vicinity of the windows, including my favorite drawing table. I rarely do a thorough cleanup, so such a task is massive with piles and piles of materials, tools, letters, papers, and drawings to dig through. The buildup is largely due to my reluctance to throw things away, leaning on the hope that everything can be used someday. Yes, I'm resourceful and I do reuse lots of things, however I've collected far more material than I will ever be able to employ.

I learned many years ago that cleanup is an important component in the creative process. The activity can be like paging through a journal where pieces of your life are reviewed, sorted, categorized, reclaimed or discarded. In my cleanup, I am rediscovering a thousand ideas left unrealized; in particular abandoned works-in-progress that deserve a second chance. I've found at least twenty sheets that I would like to rework. The intervening years since developing these drawings have brought creative experience and can provide reinvigoration and insight. In my piles I've also found many small sheets of drawing paper, torn to evocative sizes, some minimally worked, and these can also serve as catalysts if matched with the right idea. In addition, I've found twelve drawings that I've categorized as not worth spending more time on; unredeemable at this point. These I will put in a box, far out of mind, knowing perspective migrates over time.

In my piles I've uncovered tools, rulers, inks, paints, brushes; lots of supplies that may spark some new direction or augment a current project. These materials I've sorted into jars. Last but not least, two of my favorite postcards emerged from a stack of papers; displaced in the detritus. These postcard images have never been far from my table over the years. To me they stand as ideals for specific approaches to making art.The drawing by Leonardo DaVinci in the collection of the Royal Library, Windsor Castle, England, is a study for an equestrian monument and illustrates sensitivity to line. Leonardo weaves light layers of line before settling on the dominant elements to be emphasized. Note how transparency is retained allowing details such as the horse's legs and head to be postulated into variable positions. An oil study by Camille Corot from the Fitzwilliam Museum, Cambridge, England, is the second image and I deem it to be a perfect example of tonal painting. The artist brushes fluidly, confidently, and precisely with an immediate and evocative effect. I particularly admire the restrained palette and how it sways between warm browns and cool blues. Leonardo and Corot's inspiring images represent alternate views whose lessons I hope to absorb into my own practice. Soon our house painting will be over. I'll be back at my table and hopefully all of the displacement will have realigned into more and different views of the world.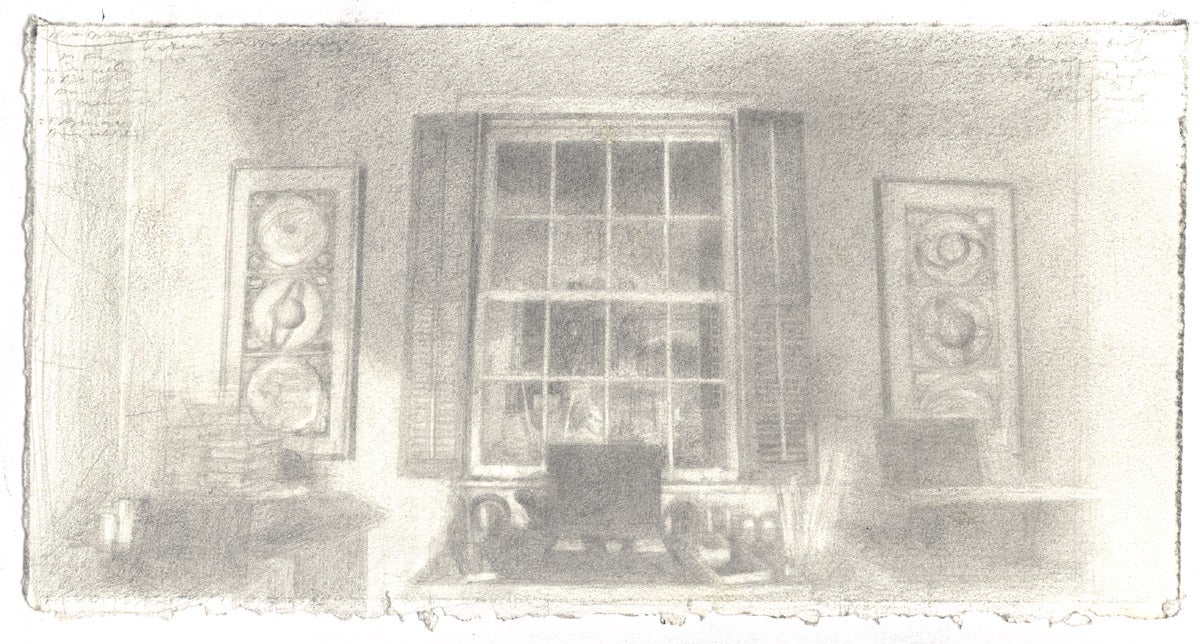 Charles Ritchie, Dark Drawings at the Window, 2009 - (work in progress), graphite on Fabriano paper, 4 3/4' x 9 1/16'. [Note January 2016: This work was completed in 2011 and retitled, Graphite Night I].