New Work / New York
Published on: 31 October, 2009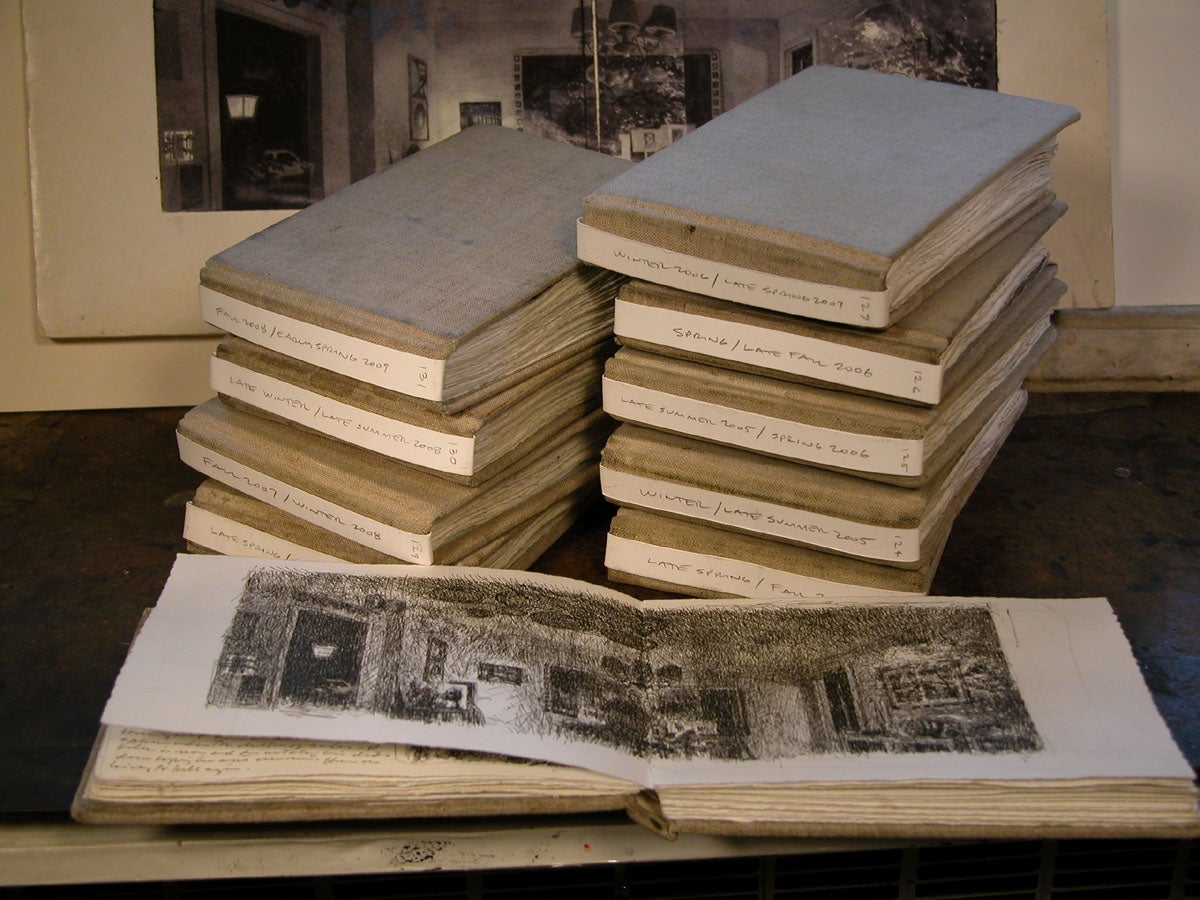 Photograph of the artist'€™s journals, Book 123 through Book 132, 2004 - 2009. The foreground journal is open to a study for Self-Portrait with Night: Pieced Panels I with the drawing in progress visible in the background.

New Work / New York
BravinLee programs, located in Manhattan'€™s Chelsea district, has opened an exhibition of my works on paper that includes twenty-three drawings, two prints, and eight journals. Created within the last five years, this body of work in many ways summarizes ideas that have percolated through my recent oeuvre while endeavoring to push into new territories.

Fourteen drawings in the show relate to my Pages series, a project that emerged around 2002. The images are executed on paper approximately the size my journal pages (4 x 6 inches) and are inscribed with notes that attend the drawing as construction as well as dreams transposed from my journals (for an example, see Self-Portrait with Planets and Moon). Such texts spring from inner discourse that parallels my scrutiny of the visual world. Multiple layers of writing may be erased and overwritten before the final inscriptions are inked. Some observers might imagine these drawings are pages extracted from my notebooks and framed, however they are formed independently. A sustained dialogue between these works and my sketchbooks is critical to their development and is evident in the journal sketches that are on view in the show'€™s display cases.

The Self-Portrait with Night series is represented with five works. These broad-format images are developed from a consistent viewpoint looking out of my studio window. Set at night or twilight, refection and transparency are evoked to compositionally merge interior and exterior spaces. While my own visage haunts these works, it is often lost in shadow or swarms of overlapping detail. In this exhibition, most of the Self-Portrait with Night works are bisected with a vertical crop or fold. This gutter or fracture not only reiterates the grid underpinning my compositions but echoes the book form. Indeed, the format of these pictures is often identical to a spread of pages from my journal; for example see Folded Self-Portrait with Night I: Watercolor.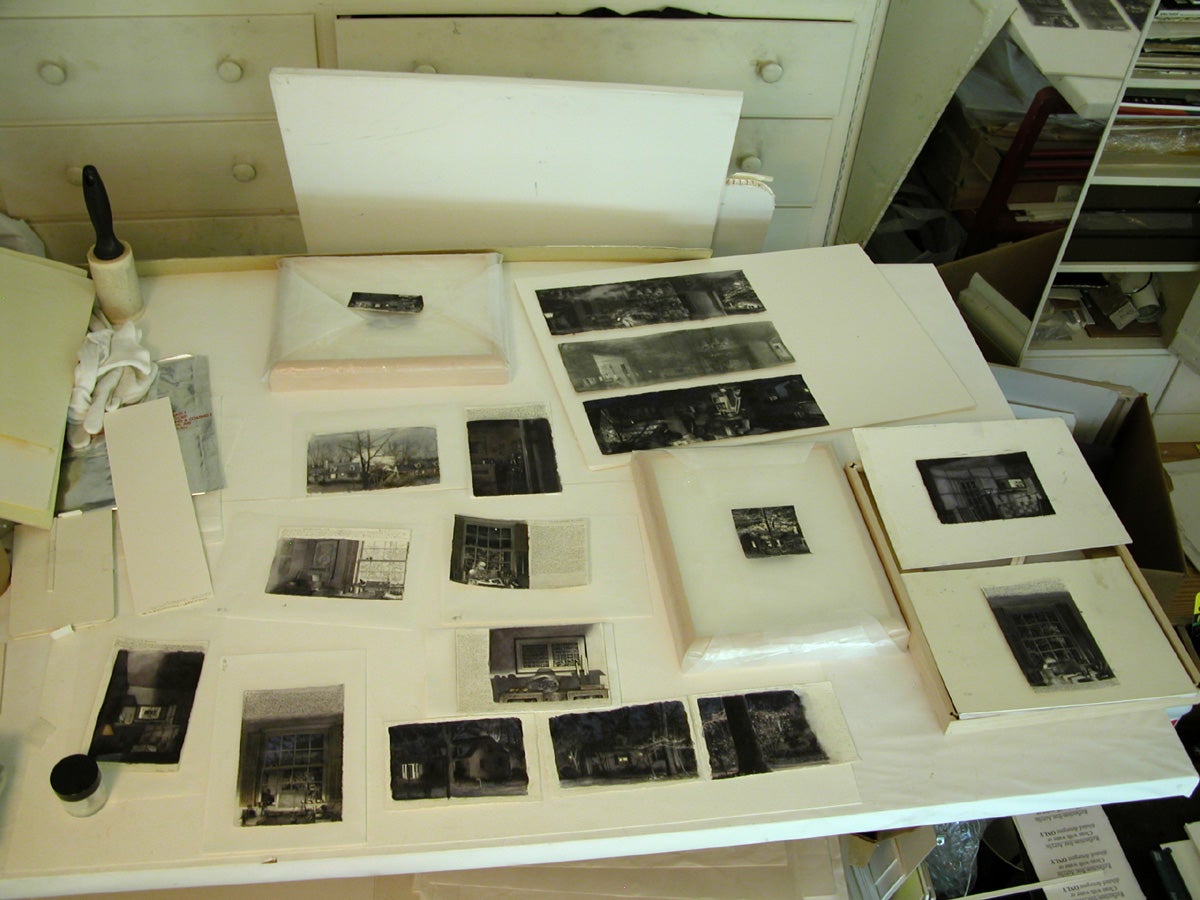 Photograph of drawings laid out in preparation for framing, June 2009.
In recent years, I find myself delving deeper into color. While I continue to emphasize flux between warm and cool tonalities, I find myself more in need of a full palette when I am painting. Hues can appear subtly in underwashes of yellows, blues, and reds, or flare occasionally in pure color as in Three Inch Suite VII: Lamplight and House. Simultaneously, I have expanded my use of graphite as a predominant medium. Folded Self-Portrait with Night II, Spring Twilight, and Night with Orion have been built up in this dry, silvery-gray medium over extended periods. I should also mention extensive inked inscriptions on the latter two works, an experiment in which transcriptions of dreams are synchronous with the image.

Most of the drawings in the show were executed in my primary studio, seated in only a few locations using subtle shifts in viewpoint to reexamine the space or peer into adjacent rooms. (Works executed elsewhere are Blossoming Star Magnolia and Folded Self-Portrait with Night III, both created in upstairs studio windows). I continue to cultivate astronomical themes by including star maps and astronomical charts in my settings, and in recent months I have reinforced the motif by replacing previous chandelier ornaments with models of the planets. I have also begun to introduce lamps with a variety of different wattage and vary their locations in the room as a means of creating a different kind of luminosity and reflection in my works. This experimentation has produced the abrupt illumination that occurs in such works as Astronomical Chart, Bowl, and Candles and Interior with Shadows. Another new variation has been to introduce mirrors into some of my settings; for example, Self-Portrait with Planets includes a mirror on my drawing table as well as one leaning on the wall behind me.

Another new direction includes expanding interest in daylight subjects as represented by such works as Bright Afternoon and Spring Twilight. I endeavor to contemplate light in an equally penetrating manner as darkness. Using random scraps of paper found in the studio as support is another new strategy for experimentation; an example can be seen in Fragment: Spring I. I have also begun to explore and refine compositions by adding pieces of paper; Self-Portrait with Night: Pieced Panels I had a section of the support filled in after the drawing had already been begun. There are two prints on view, both investigating new directions; an impression of Night II in which detail has been articulated by scratching and painting on the impression, and April 2008, the accordion fold book printed in intaglio that is based on a transcribed sequence of pages from one of my journals. Prints, as always, are published by Center Street Studio, Milton, Massachusetts.

A complete list of the works on view with images can be found in the exhibition catalogue online at the BravinLee programs site. The Drawings section of my own website offers images as well. Charles Ritchie: Books and Pages is on view at BravinLee programs at 526 West 26th Street, Suite 211, New York, New York and can be seen Tuesday through Saturday 10 am to 6 pm. The exhibition runs through 28 November 2009. Deepest thanks to John Lee, Karin Bravin, Meredith Rosenberg, Jenny Ritchie, Samantha Ritchie, Becky Kerlin, James Stroud, Janine Wong, and Lauren van Haaften-Schick for their varied and essential support of this project.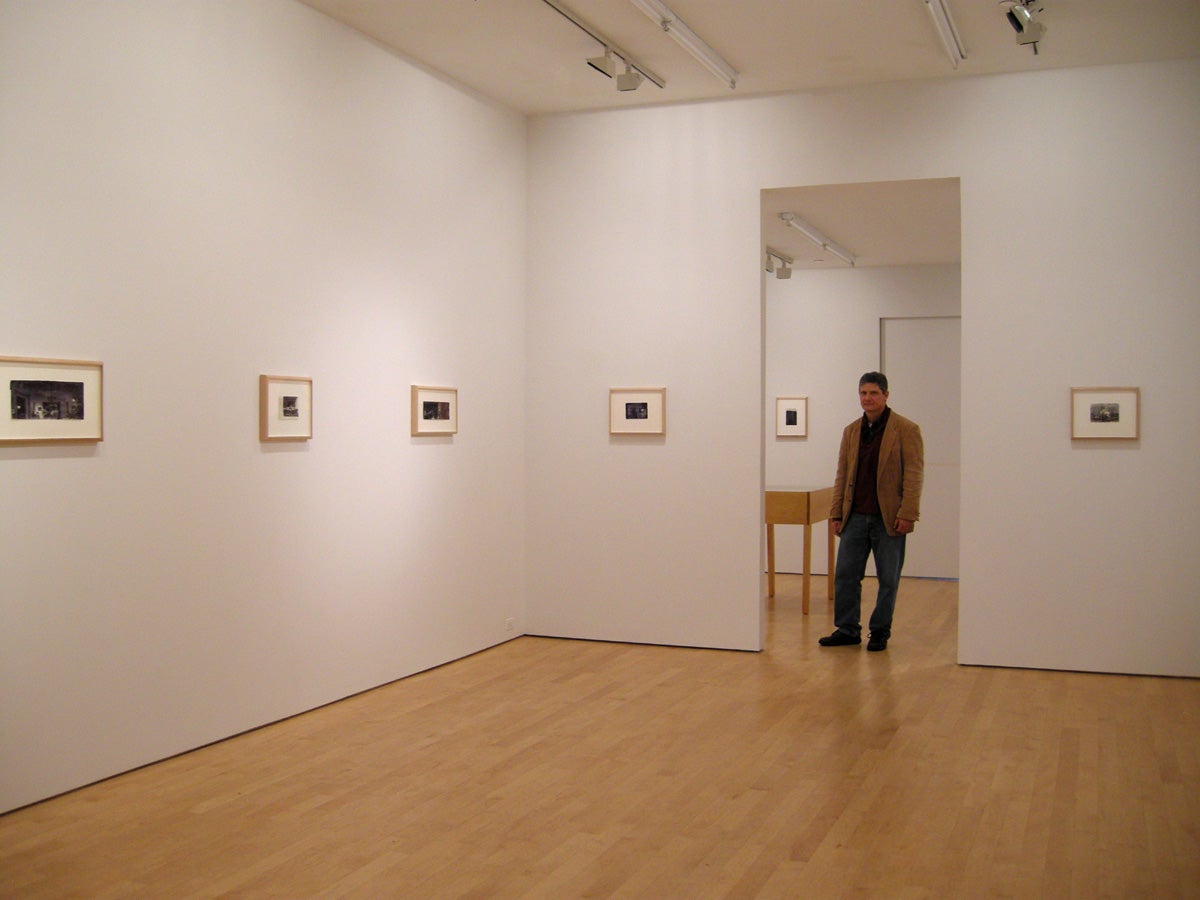 Charles Ritchie at BravinLee programs, 24 October 2009. Photograph by Samantha Ritchie.